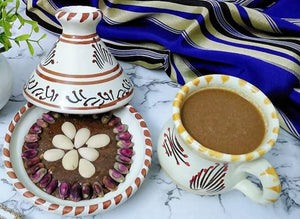 Bsissa Barley (powdre)
Barley Bsissa Tunisian product 100% organic, made by hand: our barley Bsissa BIO also contains seeds of fennel, coriander, orange poudre, rosemary, thyme.
How to prepare it:
1-Bsissa diluted with water (Drink)
Put three spoons of bsissa in a glass Add cold water, sugar or honey and mix all the ingredients.
2-Add the olive oil to the bsissa mixed with the sugar or honey until you get the desired consistency (there are those who prefer the bssisa a little light and those who prefer it hard).
Add a layer of nuts and decorate with the dried fruits.